Early this year in January, Terese & I took a trip to Sydney for a bit of R & R. This was my first trip there despite the fact that I've been living in Australia for 15 years! So the first thing we did when we got to Sydney was to check out the Opera House! Funny how I always though it to be white in color but not so, as you can see!
Sydney is a beautiful city & I was kicking myself wondering why I didn't bother to visit sooner.
Fast forward to the next day, we went sight-seeing in the city & decided to visit the chinese garden.
We saw this cute little stone child monk & I couldn't resist rubbing his head!
We also went up the Sydney Tower for a panoramid view of the city, in this photo you can see the tower's shadow against the park's trees.
What a breath taking view!
In the evening we went for a harbour cruise tour & the city's silhoutte with the sunset was magnificent!
I particularly like the bright lights from Luna Park!
On the third day, we went on a city explorer & bondi explorer buses to visit all the landmarks around town & Bondi where the sand on the beach was perfect.
We then took the ferry across to Manly & decided if we were to live in Sydney it would be here.
On the fourth day, we went on the harbour cruise again to see the city lines.
We got to Watson Bay & found this really cool cliff that faces out to the ocean.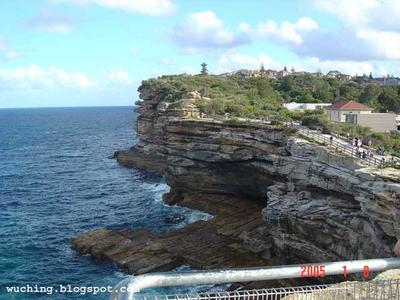 On the way back we saw the start of the Tsunami Aid Concert outside the Opera House. The next day, unfornately we had to go back to Melbourne. We want to go again!